Boss Dvd Interview
Please describe what you do and about your facility.


The Compound is a private Female Dominant Studio. It is recognized Internationally, contains fully equipped theme rooms, and is located in a fashionable upscale area. I am a professional Domina. I am a bondage enthusiast, but I have other interests that are well represented by my choice of theme rooms for the establishment. The Compound contains a Gothic Dungeon, School Room, Sissy Parlor, and Jail Cell. A submissive could choose to be a prisoner, leather slave, rubber slave, fetish slave, sissy, masochist, foot slave, student, ect...There are many role play possibilities for submissives here as well. Additionally, there are Guest Dommes.




What is it that people are looking for when they are seeking a DVD or a website membership?


It is different for each individual person. It is easier to speculate however by knowing what 'type' of submissive person they are.

There are spanking enthusiasts, bondage bottoms, medical patients, masochists, sissy girls, various types of slaves and prisoners, fetishists and role players. Keep in mind that often someone can be 2 or even 3 or more of these things. The key is to understanding each individual, how their mind works, and why they need it.

I am a Woman Who sets Her Own rules, and genuinely enjoys being in charge. I have a lot of charisma and sexual energy. I have a good sense of humor, and can re-present a scene to over and over in yet a different way each time that is more exciting than the last (I strive to make it so). I am full of surprises and creativity. People join my site or purchase my DVDs to 'make a connection' with this energy.

Why do people want to be dominated or watch others be dominated? (Please note that this is not in any particular order)

There are 4 main reasons:

a). To face their facts (therapy)
b). To 'not be in charge' for a change (to trust Someone Else to be)
c). Catharsism (through the discipline, bondage, spanking, whipping ect...)
d). Eroticism (to experience their fantasies and get off)

Notice that this is not simply a sexual thing for them, though it is somewhat sexual. I enact mind boggling scenarios. I shake them up, send lightening bolts up and down their spines, take them on roller coaster rides, make them think, make them laugh, cry, feel previously bottled up emotions...this comes across in the content that I produce.


What is it that people want to see you to do most often?

Mainly attract people who wish to view physical (and psychological) restraint. A lot of equipment here has to do with that. I am a collector of devises. People know I am a gadget freak, and often send me emails and letters to talk about equipment. I encourage this because I get new ideas.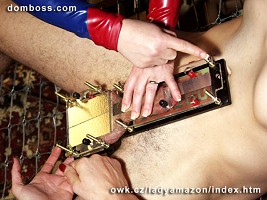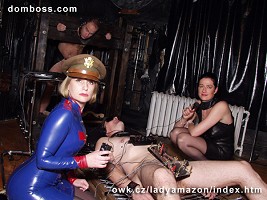 How did you get started?

From reading thus far, you can probably tell that I used to be an artist. My art began to go towards S/M inspired landscapes, and then into live performances addressing many issues which are also relevant to the scene, and so it was a natural progression for me to become a professional dominant. It started out as an experiment - 'an artist in the lab' and let's just say I have been 'in the lab' for over 10 years now.


Any special videos or DVDs that you think capture the kind of things that happen in your dungeon?




Any that you find especially appealing?

The most popular ones tend to be the more extreme subject matters.




Any advice for a person interested in the scene but doesn't know where to start?

That would all depend on what you plan on doing with it. If you are a bottom or a Top, and if you are interested in this for personal or professional reasons, or both! Choose carefully, and always remember that you can return to your point of departure and plan it all out again in a totally different way. There are no 'mistakes' if you feel something strongly in your heart.